A few enquiries keep coming in so I thought I would clarify on position and next steps:
Where are we now? We are waiting for NSW Health to provide the next update of their guidance that is due 25th September. (You can find the latest document here).
Are we running a season? In alignment with Surf Life Saving advice, our intention is to run a season, but we need to receive and understand the Government-issued parameters before we can shape it, produce our plan and inform you.
Have a question? We understand it's a confusing and worrying time for all, and you may have some questions. If you have one (or more!) you would like us to ensure we address in our plan, please add them here (if you have multiple, simply re-load the form).
Cuteness personified. In the meantime, the response from the previous newsletter indicates that people like puppies (who knew!), so here is Henry this morning..
Enjoy your day!
Ben
______________________________
Good morning and welcome to another Nippers season!
I'm delighted to confirm that you have enrolled successfully and are joined by ~700 returning Nippers. This has filled out our permitted numbers and thus we sadly cannot run a ballot for bringing any of the ~500 new applicants into the program. 
First of all I don't have the best news for you, so I'm going to cheer you up by showing you my new puppy:
His name is Henry, he's a 4 month old Border Collie / Lasha Apsa cross who likes eating walls, Uggs and.. well anything lying around! My kids had no idea he was turning up, so that was fun weekend. :)
Anyway, Nippers.. I need to talk about that. Specifically where we are and what we're going to be doing. Often I find it's best to use a pictorial format to explain our journey that brings us to today..
MAY:
JUNE: 
JULY: 
AUGUST:
During this period I haven't created a plan due to the fluid nature of restrictions but instead created a framework of ideas, approaches and strategies for how we could respond to different scenarios of restrictions. This framework will be used to create our Covid plan nearer the start time. 
You will no doubt know that this week NSW Health issued new guidance relating to community sports activities and children mixing from different zones. (You can find the document here). 
The advice prevents us from starting a normal program as we intended on 25th October.
We are aware that there are some community sports (such as soccer) that have chosen to continue, however they all have a strong focus on non-players not being there.. whereas our activities *need* parents to participate. Bronzies are the exception to this and we're exploring ideas for the Bronzies to run. (They have low numbers, don't need guardians to be present, we can seperate them and they need no equipment. If you're a Bronzie parent we will be in touch.)
This advice is all very sensible and clearly designed to limit the risk of heading into a similar position as Victoria.
From now we will have to see how the advice changes (the letter states a further update will come in 6 weeks). 
Looking forward we have a myriad of ideas of how we adjust the program; from the simple to the administratively prohibitively complex - we need to find the sweet spot. Normally we shut down over the Christmas period as so many people go away, however this year with most people still around, we may have the option to still run a full program (of 15 sessions) by using these weekends. I would like to stress *may* as it's Mosman Council's beach and we have to ask them very nicely for permission.
Talking of the beach, there's a chance you may not remember what it looks like, so here's a reminder.. with the council grooming it to perfection!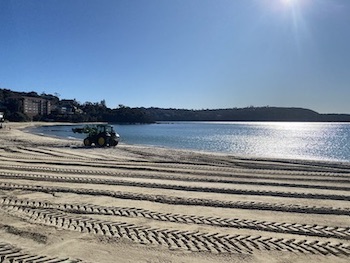 It's a big beach, we're an imaginative bunch and we're sure we can find ways of having some activities whilst being fully compliant. It's just a matter of waiting a little longer for the dust to settle.
If you're one of the 600 who have given us your school data, thank you. If you haven't got round to it yet, please can you do so now - it takes but a few seconds and the data really helps us shape what we can do and how we can do it. The form is here, and you will need your cap numbers (which are on a seperate email to you, or can be seen when you log in)
That's all I've got for the moment so for now I'm going to say Farewell and drop into a cryogenic sleep for 6 weeks.  Sorry if this news has made you a little sadder than you were. Like the outdated appraisal feedback technique (aka "s**t sandwich") - I started with happy puppy and will end with happy puppy. Click here to see a 9 year old's reaction to seeing Henry for the first time - you'll smile and forget all about Covid. Just for a few seconds. 
Ciao! 
- Ben
______________________________________
Ballot information
20 Aug 2020
This season has seen nearly all prior participants return, hence we are up to our permitted volume and sadly are not able to offer any places to new applicants through the ballot process.
This number is set by Mosman Council of how many can safely participate, driven by the size of the beach. It has not been varied due to Covid - any applicable Covid restrictions at the time will be on top of this.
We've never seen this before and can only assume that other activities being curtailed and travel stopped has prompted people to re-join.
We are truly sorry, however the beach is only a certain size. 
This article describes the popularity and challenges faced (during a 'normal' season) https://www.balmoralnippers.com/why-cant-i-get-a-place/
- Ben
___________________________________
Enrolment for the 2020-21 season has closed
16 Aug 2020
The enrolment window has closed.
We will now analyse the data to determine how many we can have in the ballot this year. The ballot will complete by Sunday 23rd August
_____________________________________
Enrolment is closing today
15 Aug 2020
Enrolment for the 2020-21 season is closing at the end of today, Saturday 15th August. 
No applications will be accepted after this time.
Our approach to the Covid situation is described here 
_____________________________________