Week 15, Final newsletter
09 Mar 2020
Well that was an interesting season - according to 'the oldies' we've never experienced such weather challenges before. We were *so* lucky with the weather on Sunday. At 6am it was torrential rain and at 7am we had some apps saying it would clear, some saying it would get worse.. but in the end simply looking at the weather over the heads and having a guess yielded an accurate result and we're so glad we made the right decision!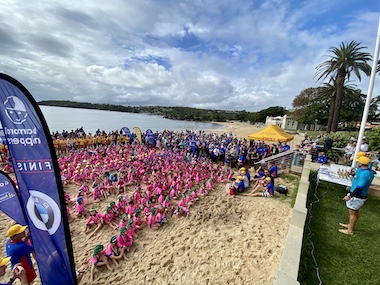 So, we hope you had fun!  You certainly seemed to; registration analysis shows that attendance was 10% better across the board than where it normally sits.. so clearly the wonderful Age Managers are as appreciated by you as they are by us! And we are very glad to hear that - we Green Crew are a *very* small team this year and have put a lot of effort in to not drop any balls. The new structure I've put in place and recruitment campaign I've been on has been very effective ensuring that next season will be less pressurised for all of us!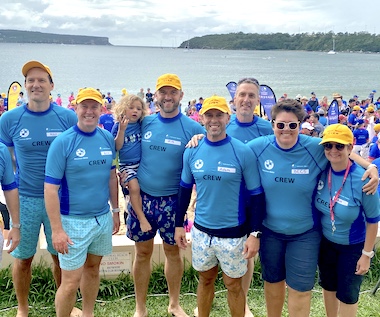 Talking of dropping balls, the weather complexities led to a strange situation where we didn't get the Bronzie Year 2 completely right on Sunday and we feel awful to hear that some children were disappointed. We are very sorry for this, and will be reaching out to those affected to make it right (with help (again) from our very generous friends at The Buena).
All Abilities program
We have spoken with a couple of parents whose children would benefit from a program of a different pace and consideration. This has led to a trial a few weeks ago and we have agreed to add this into our offering. 
We are determining the details (in terms of time, format, numbers, logistics, insurance) and will be in touch next month with more. It will be between 10am and 10:45. If you feel this may present a benefit for your child (who may not be in Nippers at the moment, but a sibling is) and want to know more know please get in touch at any time.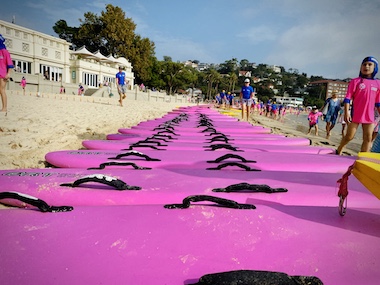 Peter Mac award
Another shout out to Charlie Gassman for winning the Peter Mac award for the Spirit of Nippers.
Charlie has exactly the attitude that we love on the beach; enthusiasm, tenacity and effort. Always here with a huge smile, the right attitude, friends to everyone and loves being in Nippers! Well done Charlie!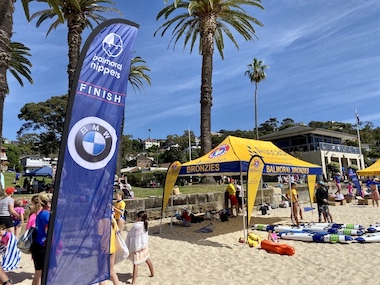 F

eedback survey

If you have a minute, I'd be grateful if you'd give me an indication as to how well we did on a little survey I've put up. Doesn't need a sign in, can be anonymous, you can leave comments and I appreciate the bad feedback as much as the good! Link here

And yes, you can leave comments on my Comms - always tricky to know if my jokes are well received or not. And my pictures. My new waterproof phone is very good.. but I'm particularly happy that I didn't drop it in the sea!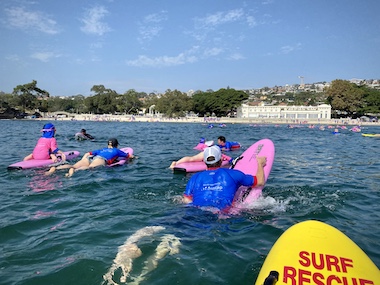 Enrolment for next season
If you want to join us again in October, you need to enrol between 20 July and 30 July. We will email you (before, and during the window!), and clicking below will put a reminder in your calendar:
As a prior participant a family gets guaranteed re-enrolment.. unlike ~700 last year who were turned away as we were full [click]. (Yes, read that again, seven hundred!). Oh and try not to use a work email - eventually you will change job and forget that this is your route to a reminder. Happens too often :(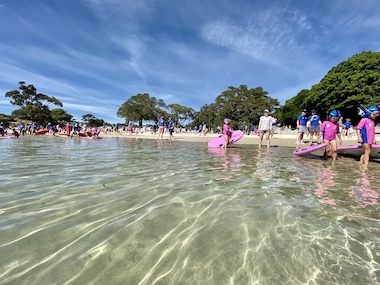 Balmoral Swim for Cancer 
Sunday 05 April
The water will still be warm, the sun will be shining, the band will be playing and everyone will have happy faces!
They have races suitable for all levels of (child to adult) ability, including relays. Bronzies are highly encouraged to enter. All Nippers, Bronzies and age managers helping their Nipper are to wear Nippers gear. It's a load of fun, we will have a tent up and we hope to see you there. 

Stephen will have more details to follow regarding the teams and how Nippers wants to encourage you more! 
Website for enrolment here
What do I do with these?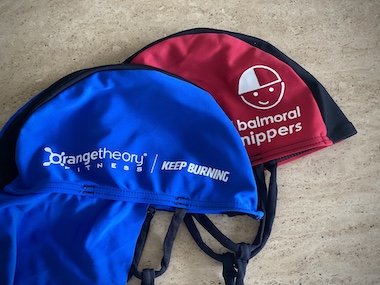 Throw them out. Next year you'll get new coloured ones, and will be allocated a different number. If these are hanging round your swimmers basket you're going to get confused! 
And talking of which, I'm updating the software so next year I'll be able to tell you 'write Bobby 857 on the blue cap and Kate 623 on the red cap' as so many of you wrote the wrong name and wrong number on the wrong colour cap.. as if having more than one kid isn't difficult enough! :)
What were the final Champs scores?
I'll leave the table up for a few more months (and will reset it at some point in June). www.balmoralnippers.com/champs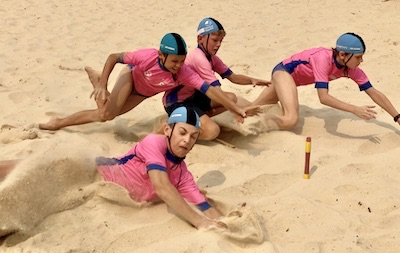 I'm going to miss my age manager
I know, I know, we're *all* going to miss our age managers.. but they have to have a rest and recovery, and we're just going to have to cope. The sponsors are going to feed them enough beer on Friday to keep them going until we meet again in October.. so they'll be okay and the rest of us will just have to be brave and push through!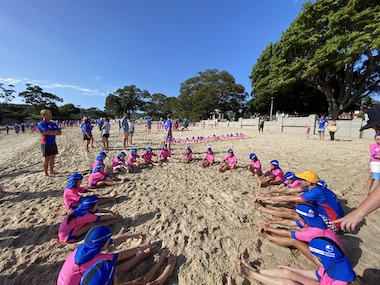 Final thought
Our small team of volunteers really do care that you and your children have had a great season, thoroughly enjoyed yourselves.. and appreciate how amazingly lucky we all are! 
As Andy Bernard once said "I wish there was a way to know you're in the good old days before you've actually left them"..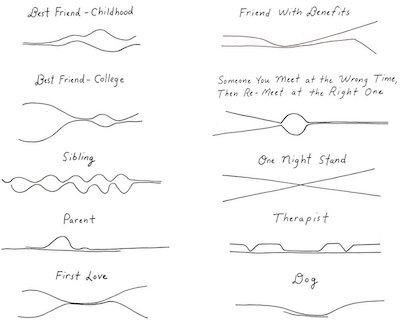 Ciao!
Benoît
____________________________________
We are on today, 08 March
08 Mar 2020
The rain has cleared on the beach and we're running the final session and awards today (Sunday 08 March)
WHAT A FANTASTIC DAY!
An amazing effort all season, followed by some amazing extra pushes...and not only that, have you seen the champs leaderboard? So tight that in the 10s and 11s we have a tie between Hugo and Sebastian!
www.balmoralnippers.com/champs
And this is a wonderful image - 11 boys in the iron kid champ finishing arm in arm. Jake Ingle on the left and Jack Walton on the right. Says it all..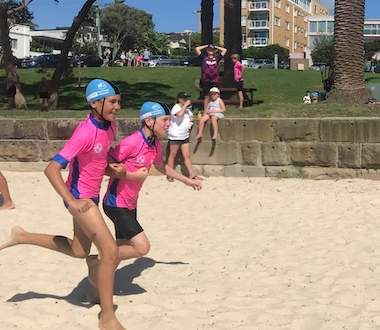 We're just completing an audit of all the championship results in preparation for awards next week, including ensuring participants were in all of that days' Nippers activities. Where we find something that appears to be astray we will contact the parents directly. 
Beach conditions
So the weather was back to normal, the sea was 'almost' back to normal and so was the sand.. sadly as much as we can control we can't make the beach perfect all the time.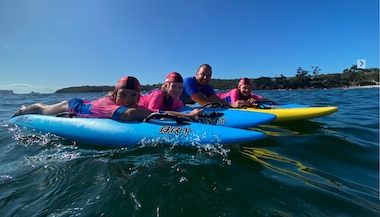 We were aware of some debris washed ashore around the 5s and 6s area. This is rare, but happens as there's minimal wash at that enclosed area of the beach, so things can be deposited and not carried away as quickly as with the other areas. We loved seeing the Nippers spirit in the 5s and 6s doing a sweep and clearing some of this debris into the bin.
Do you like Nippers but favour NOT being dragged in to get wet AND like drinking drinking coffee whilst talking about MAFS?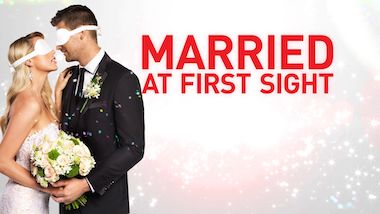 Well, I'm not sure about the MAFS bit, but I might have something you're interested in.. 
As you know, I've been on a mission to recruit more people into the organising crew next year. I have had considerable success however still have one outstanding.. someone to join the tent crew.
The tent crew sit as part of a team that only have something to do only during the Sunday sessions, and fit into the picture like this: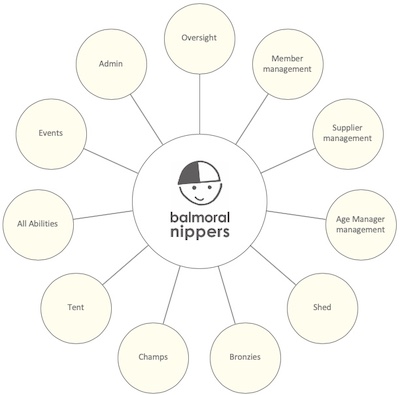 This vacancy is to join a team of four.. we don't regularly need four, normally only two so the duties are light but we like to have more to ensure we spread the knowledge and can cater for when someone is away.  
The current crew are the friendliest ever, are very Nippers knowledgable, helpful and always turn a weekend task into fun.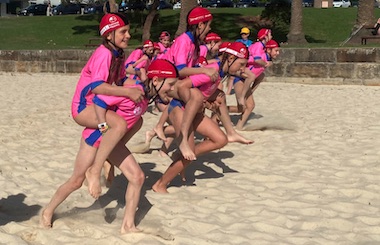 If you can help, I would be delighted if you could reply back so I could stop feeling guilty bugging you.. and if you do, you and your partner will be warmly invited to the age managers and crew end of season party.
Sausage Sizzle
A HUGE thank you again to The Buena for hosting their sausage sizzle..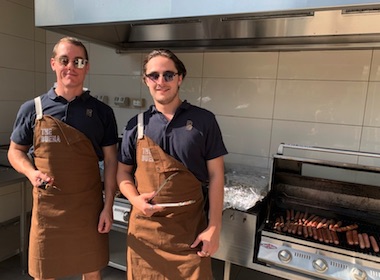 and for the volunteers for helping us serve..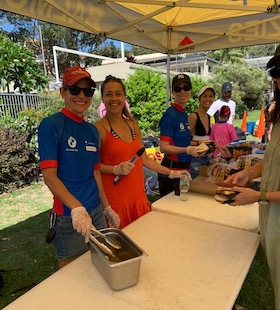 We received feedback about a lack of vegetarian option and we'll speak to them to see if we can work something out. The other area of feedback was the size of the queues.. which again we'll look at how we can make churning through faster.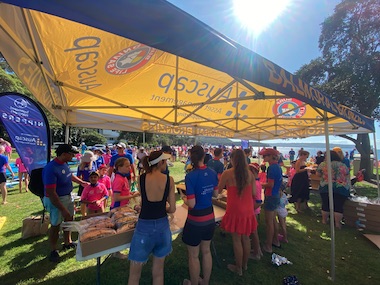 Balmoral Swim

You may have noticed 'Blockie' (the CCI green Mascot) walking around, this was to promote the Balmoral Swim, supporting the Children's Cancer Institute.
This fantastic, fun filled event has items for everyone (ie. for kids, adults, competitive swimmers and teams) and happens on Sunday 05 April (.. do I need to say at Balmoral Beach? I mean.. where-else would Balmoral Swim be?!  Anyway...) and you can find all the details right here 
www.balmoralswim.com.au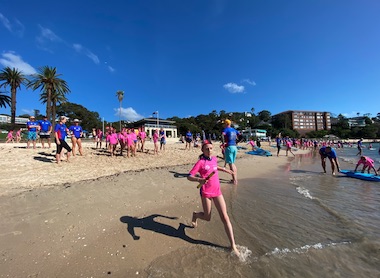 Balmoral Beach Club membership
Remember Alex?  As a member, he will commit your face to memory.. and will let you right in.. so no more of the hand! :)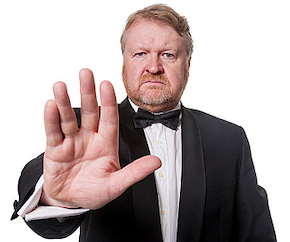 Next week is our final session
I know, I know, you're sad that you won't be getting my ramblings to look forward to each week, BUT you will be able to get a lie in on Sundays - and who doesn't want that!?

In this final session we have a reduced format of Swim / run / flag (but no boards) and at between 9:35 and 9:40, you'll be directed over to the area in front of the Beach Club where I will make all of you sit in silence until someone puts their hand up to join the tent team..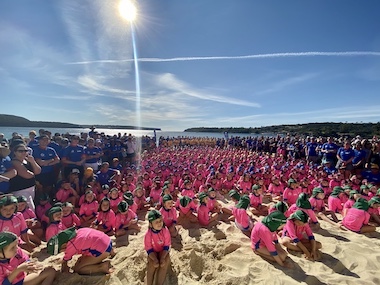 .. and then we will have a few short speeches and awards! 
We know from last year you guys feel it went on a bit long. There are two areas of this that we can address and hence will be faster this year, but the awards ceremony is a big big deal for the kids who get it, so please show your support.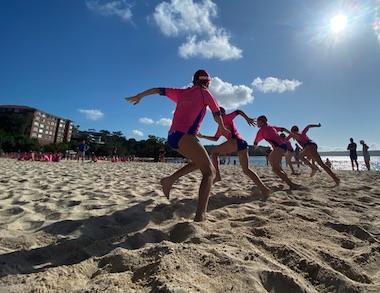 That's it for this newsletter, I hope you have a great week! 
Cheers,
Ben
_______________________________________________
Week 13 newsletter
23 Feb 2020
We trust you had a great day - the weather was a bit overcast, but the water and beach was at last back to being very usable! There's a way to go to get our usually pristine beach and water return to 100% again, but if the weather holds out, the back end of the season should be as good as the first part.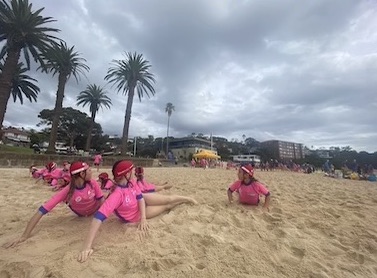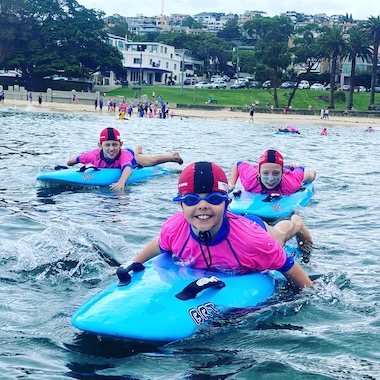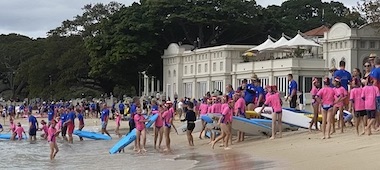 Champs
A fantastic effort by all today with the top of the leaderboard ridiculously  close and just one more champs session (next week), which is the Run / Swim / Run.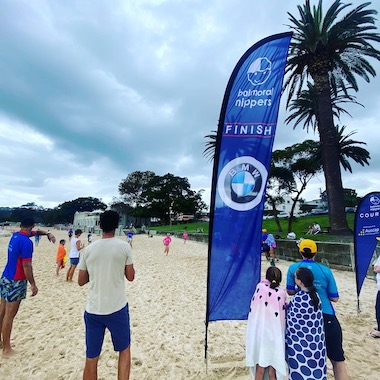 Regarding volunteers for next season, did you know that the fine men and women volunteers that organise and run Champs don't have a child participating in it? They basically stay around to run it for strangers just because they're awfully nice people. So if your child participates in Champs it really is the right thing to put your hand up and offer to join the team that runs this. Particularly as next year they're understandably not as keen to continue doing so..
Please put your hand up to volunteer in the Champs team at this link
Lost property
We have had a pair of Rayban glasses (not sunglasses) from a few weeks ago that is still waiting collection. If this is you, please pop along to the tent.
Set up and pack away
Thank you to the 9s, next week it is the 10s and 11s (ie. because there are less of you.
Please be there at 8, thank you
Volunteers for next season
Thank you for the response that we've had so far, however we still have some more and it would be ideal to fill the remaining places that we have before the end of the season.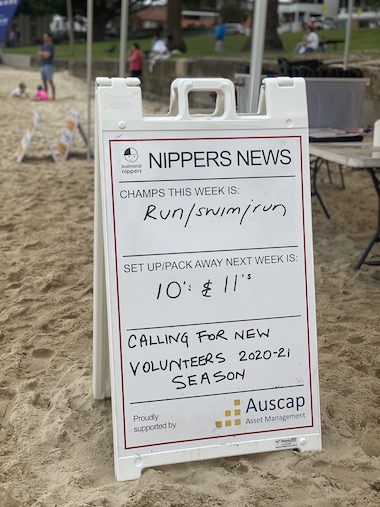 (As well as the champs above) we have open..
On the beach
2 people to help out with the Bronzie program

1 person to help out in the tent
Off the beach
1 person to assist with Age manager management

1 person to help others out with Administration (need to be a BBC member)

2 people to help with the Events organisation
Note these are to join existing people - you wouldn't be doing it on your own, and the time commitment is really quite low.
Please put your name forward here volunteer entry form. (For more information, this link explains what the teams do.. or send us an email at admin@balmoralnippers.com)
... and of course all new crew members will be invited to our end of season crew and age manager drinks!
Buena Sausage sizzle
Note that The Buena are again generously providing a sausage sizzle next Sunday after Nippers for our participants.

Instagram
First we open up a Facebook page and now we have an Instagram account.. we're on fire! It's like this social media thing could catch on! Follow us at @balmoralnippers and share your pictures using #balmoralnippers
Have a great week and see you next Sunday, where the forecast is showing even better weather!
Ben and the team
____________________________
We are looking for volunteers for next season
22 Feb 2020
Nippers is a not-for-profit community programme operated by parents and guardians and organised by volunteers. As Nippers grow older and exit the program, so do their volunteer parents, and thus we have some vacancies and we are looking to find 10 helpers to join us.
We're taking an improved approach next season where we have created small teams that will share responsibilities, spreading the tasks to reduce an individual's work load as much as possible. We have at least three in a team to ensure people can support each other, and all teams have people in them who have done it previous years (ie. we keep rotating to keep the knowledge in). In addition we have an 'Oversight Team' where more experienced crew members are always available.
All our activities and active volunteers are fully insured. We offer all assistance in order to comply with our legal obligations regarding insurance, working with children and other statutory duties to safely cover volunteers and sports and community club activities.
We know that some volunteers are only able to help outside the actual beach session, whereas others wish to help during the session on the beach itself. In light of this I've divided the teams into 'Off The Beach' for tasks that can be done outside the Sunday sessions, and 'On The Beach' for tasks during the Sunday session. Some of these tasks are quite light and take place in just a few hours before the season, where some are more hands on and regular.
The vacancies are in supplier management, member management, administration, age manager, bronzies, champs, tent and events. To understand what these entail, please click here https://www.balmoralnippers.com/volunteers-needed/#teams and to put your name forward, please click here https://tinyurl.com/sxkkn2h
Things are pretty well oiled at the moment, the IT systems are refined to perfection, we've got some wonderfully supportive sponsors and we all know what's going on on the beach! We're a fun team, get together every now and again and have a couple of organised social events a year (next one is the end of season drinks at the BBC in March, that yes new volunteers will be welcome to come to!). It's enjoyable and very rewarding.
Thank you for your consideration, I hope you will join us
Ben and the team
______________________