Week 13 newsletter
23 Feb 2020
We trust you had a great day - the weather was a bit overcast, but the water and beach was at last back to being very usable! There's a way to go to get our usually pristine beach and water return to 100% again, but if the weather holds out, the back end of the season should be as good as the first part.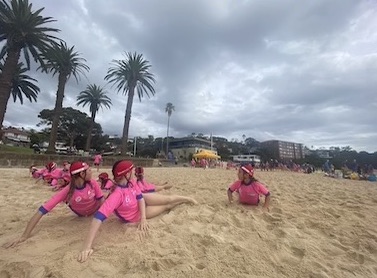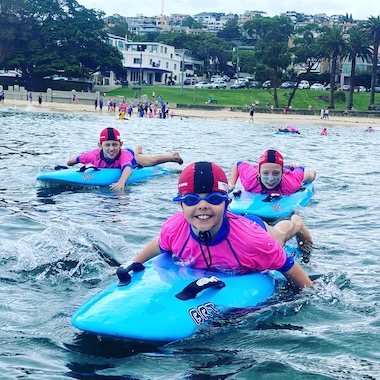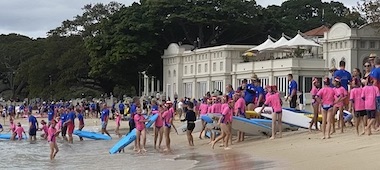 Champs
A fantastic effort by all today with the top of the leaderboard ridiculously  close and just one more champs session (next week), which is the Run / Swim / Run.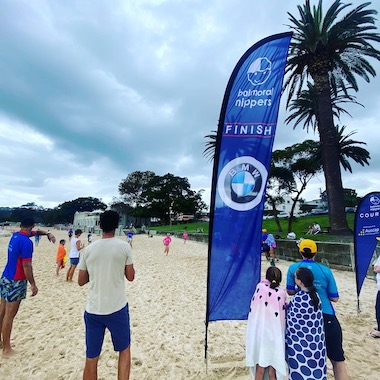 Regarding volunteers for next season, did you know that the fine men and women volunteers that organise and run Champs don't have a child participating in it? They basically stay around to run it for strangers just because they're awfully nice people. So if your child participates in Champs it really is the right thing to put your hand up and offer to join the team that runs this. Particularly as next year they're understandably not as keen to continue doing so..
Please put your hand up to volunteer in the Champs team at this link
Lost property
We have had a pair of Rayban glasses (not sunglasses) from a few weeks ago that is still waiting collection. If this is you, please pop along to the tent.
Set up and pack away
Thank you to the 9s, next week it is the 10s and 11s (ie. because there are less of you.
Please be there at 8, thank you
Volunteers for next season
Thank you for the response that we've had so far, however we still have some more and it would be ideal to fill the remaining places that we have before the end of the season.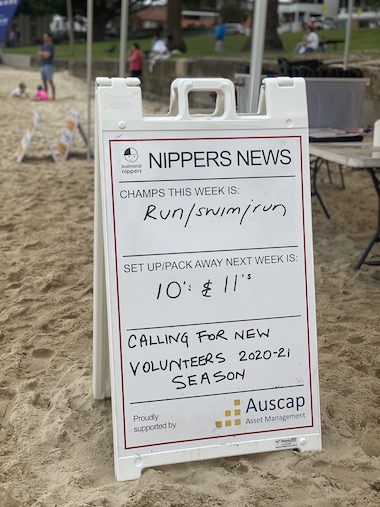 (As well as the champs above) we have open..
On the beach
2 people to help out with the Bronzie program

1 person to help out in the tent
Off the beach
1 person to assist with Age manager management

1 person to help others out with Administration (need to be a BBC member)

2 people to help with the Events organisation
Note these are to join existing people - you wouldn't be doing it on your own, and the time commitment is really quite low.
Please put your name forward here volunteer entry form. (For more information, this link explains what the teams do.. or send us an email at admin@balmoralnippers.com)
... and of course all new crew members will be invited to our end of season crew and age manager drinks!
Buena Sausage sizzle
Note that The Buena are again generously providing a sausage sizzle next Sunday after Nippers for our participants.

Instagram
First we open up a Facebook page and now we have an Instagram account.. we're on fire! It's like this social media thing could catch on! Follow us at @balmoralnippers and share your pictures using #balmoralnippers
Have a great week and see you next Sunday, where the forecast is showing even better weather!
Ben and the team
____________________________
We are looking for volunteers for next season
22 Feb 2020
Nippers is a not-for-profit community programme operated by parents and guardians and organised by volunteers. As Nippers grow older and exit the program, so do their volunteer parents, and thus we have some vacancies and we are looking to find 10 helpers to join us.
We're taking an improved approach next season where we have created small teams that will share responsibilities, spreading the tasks to reduce an individual's work load as much as possible. We have at least three in a team to ensure people can support each other, and all teams have people in them who have done it previous years (ie. we keep rotating to keep the knowledge in). In addition we have an 'Oversight Team' where more experienced crew members are always available.
All our activities and active volunteers are fully insured. We offer all assistance in order to comply with our legal obligations regarding insurance, working with children and other statutory duties to safely cover volunteers and sports and community club activities.
We know that some volunteers are only able to help outside the actual beach session, whereas others wish to help during the session on the beach itself. In light of this I've divided the teams into 'Off The Beach' for tasks that can be done outside the Sunday sessions, and 'On The Beach' for tasks during the Sunday session. Some of these tasks are quite light and take place in just a few hours before the season, where some are more hands on and regular.
The vacancies are in supplier management, member management, administration, age manager, bronzies, champs, tent and events. To understand what these entail, please click here https://www.balmoralnippers.com/volunteers-needed/#teams and to put your name forward, please click here https://tinyurl.com/sxkkn2h
Things are pretty well oiled at the moment, the IT systems are refined to perfection, we've got some wonderfully supportive sponsors and we all know what's going on on the beach! We're a fun team, get together every now and again and have a couple of organised social events a year (next one is the end of season drinks at the BBC in March, that yes new volunteers will be welcome to come to!). It's enjoyable and very rewarding.
Thank you for your consideration, I hope you will join us
Ben and the team
______________________
Week 12 Newsletter
16 Feb 2020
We're having a bit of a strange year, aren't we?! Poor air quality, poor water quality, a cyclone, smelly sea weed and the sand being a bit sub optimal.
Although the council did a great job in clearing the beach that we're very appreciative of, some seaweed washed back in overnight, there were some items that were small enough to have escaped the grooming, more rocks were exposed than we were happy with, and we didn't think the water was as clean as we were expecting. 
As safety always has to come first we just weren't happy with the water so water so that's why we cancelled the boards (as well as the cancelled swim). 
During the first session we had a few kids needing first aid attention at the tent due to sea urchin spikes - and some parents had highlighted they had found some other nasties in the sand (bits of rubbish, glass, cans - remnants of things that appeared to have washed up in the storm, but escaped the grooming). So with safety at the forefront again, we realised that the Champs beach run should be reconsidered, and hence we cancelled it.  
All of this is unprecedented in Balmoral Nippers history (we imagine.. there isn't a museum nor a 34 year old book of records!), so we're muddling through a bit. However thanks to the fantastically imaginative age managers and awesome attitude of the families everyone had a great morning on the beach. Variations included; flags, ball games, stuck in the mud, ninja boarding, obstacle races, tug of war, water buckets and many others, a good time was certainly had by all!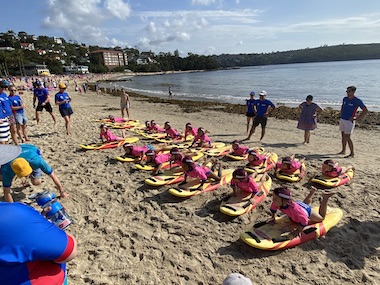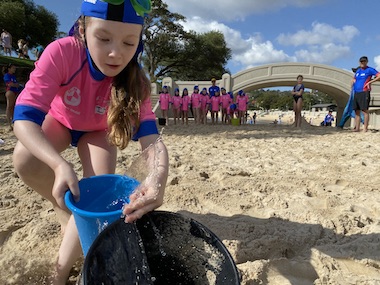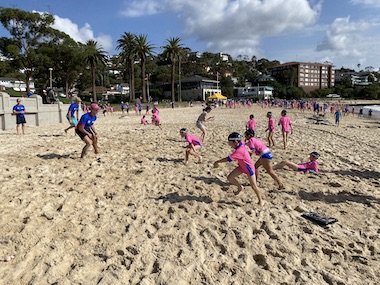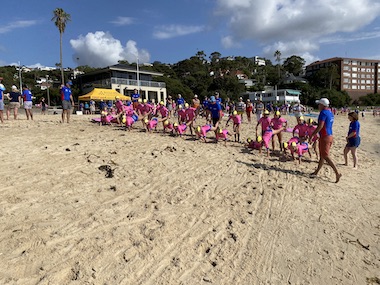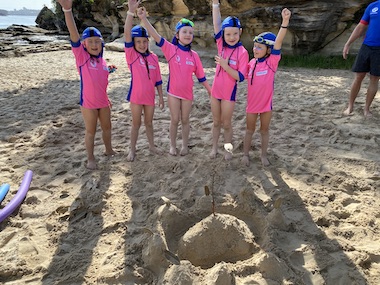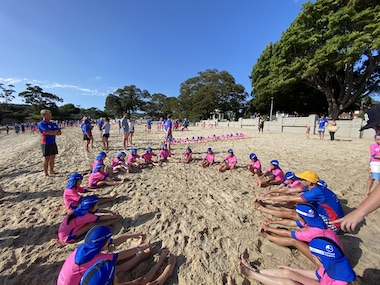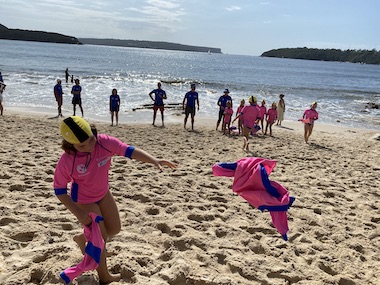 Champs
So we've now missed 11.Swim (due to the storm) and 12.Boards (due to the water) and you may be wondering what we're going to do. 
Initially we could see that not doing the swim was a bit unfair / unlucky to the kids who are the better swimmers and an ethos of the Balmoral Nippers has always been to develop competent ocean swimmers. But given now a board paddle has been missed as well its sort of evened out most of the 'disadvantage'. We guess the better runners are ahead but with only two events to go both of which have a swimming component we're going to just let it go. The kids are pretty much on an even footing now, just the luck of this season.

Next week is run / swim / run.. and we don't have any nasty weather forecasts at this stage !
As for the champs table - it is really hotting up at the top end..   
https://www.balmoralnippers.com/timetable/

Buena BBQ  

Next sausage sizzle provided by our friends at The Buena will be on for the 1st March (the last Nippers session of the season will be 8th March). 
We have four volunteers, we need another four to run this. The Buena chefs will be handling the food and cooking, we only need people who can help us serve. 
Please send us a mail if you can assist.
And talking of The Buena, they have a new bar (in the Bistro Mosman bit)..
Lloyd and the team from The Buena would like to introduce you to Juniper Lane, Bistro Mosman's bespoke Gin & Whisky Bar, perfect for intimate drinks, group get togethers or your next cocktail party.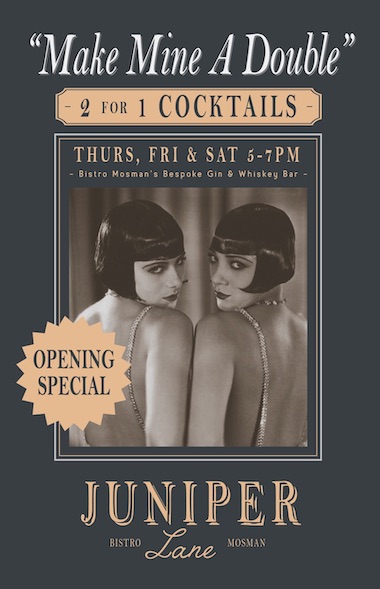 As the name suggests, you'll find a great array of boutique gins from here and abroad and a cocktail list focusing on the joys that gin creates when entwined with other delectable spirits and liqueurs. 
But if gin just ain't your thing, don't fret, we also offer an outstanding selection of whiskies from around the world. Serving up warmth, charm, sophistication, a little bit of cheek and 'Oh so Frenchie' bar snacks, Juniper lane is a destination in its own right. 
So, grab the girls, grab the guys and take a stroll down our lane – Juniper Lane! Juniper Lane is available for your next function – talk to our events team about hosting your next special occasion with us at Juniper Lane.
Setup and Pack away
Next week its the turn of the 9s, please be there at 8am. Thank you
We have a Facebook page
To increase our reach we have created a facebook page that we'll be putting urgent messages on to alert you to the plague of locusts / snow storm / invasion of flying fish that will no doubt being heading our way next Sunday!
Low volume, short messages only - not enough to spam you or irritate.  You can find it here https://www.facebook.com/Balmoral-Nippers-100477464876309/   (And yes, we'll also be sending direct emails in these types of situations.)
I've left it open for comments.. but please behave :)  We don't have a social media person, only "a Ben" who hasn't got time to manage a social media account as well as all the back office operations (and remember is a volunteer - Nippers has no staff). If you have a query, please mail this address (admin@balmoralnippers.com) - the messenger service on Facebook won't get you anywhere!
Bronzies
Some Bronzies are due for the long swim test this week. Other Bronzies might need a catch up session. The go ahead will depend on water quality. If the beach water is unsuitable, there maybe a change of venue to a nearby swimming pool. This will be arranged by the instructors. 
Bronzies will be notified by direct email.
Need help, or know someone who does?
With around 2,000 people being involved in this program I liaise with some who are going through some tough times for a variety of reasons. Last week I was told about 'Gather my Crew', which would have certainly helped those. Hopefully you won't need such a facility, but you can never tell what's around the corner and it's worth knowing about..
In the simplest terms, should you - or someone you know, be having a hard time and need some assistance, this site easily facilitates gathering all the people saying "anything I can do to help" and matches them to specific tasks where help is needed. 
It fixes the problem where most people needing help don't know exactly what help they need and those offering the help don't know how to help them either. 
The clearest bit on the website that explains what they do is here, and a lovely neat explanation as to why a WhatsApp group doesn't cut it is here. 
Okay

then, well that's it for another week.   
Well done for getting your children

 out and ha

ving fun in the circumstances - it was great to see everyone adapting and having a great time. 

Still looking for four people to help serve at the BBQ on 1st March. 

Only three more to go of this season (your next questions will be answered here..  

balmoralnippers.com/timetable

)

And this shot is from further down the beach, just as Nippers finished on an 'off day'

..  remember that this place is paradise!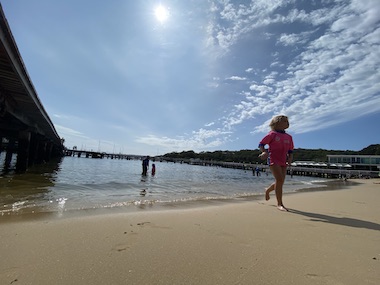 See you next week!
Ben
_________________________________ 
Week 12 is On!
14 Feb 2020
Thanks to the wonderful and ever-efficient Mosman Council the beach is being cleared right now and will be all good for a Sunday Nippers session!
The water is still not as we would like, so we won't be doing a swim, but instead games in this session's place. (Boards will be on though).
Buena BBQ - 1st March
Thanks to those who have stepped forward however we need another four volunteers to run it (The Buena will kindy do food preparation and cooking, we just need to setup, serve, pack away)
If you can help, please reply back.
Champs
Board paddle is the activity this week so is 'on'.
We acknowledge the feed back of the skipped Swim champs last weekend and will look at doing something later - but it won't be this Sunday due to the water quality.
Setup and Pack away
This weekend it is the turn of the 8s, please be there at 8am. Thank you
_________________________________
We hope you enjoyed your Sunday lie in and managed to relax (rather than run round with towels and buckets whilst your roofer tells you, "of course I can't get up on your roof and fix it in this weather!")
We also hope that you agreed with our decision to cancel Nippers. It's not a decision that's taken lightly, it is very rare and we don't like to disappoint.
Should you be inquisitive, this video shows what the beach was like at 9am on Sunday https://vimeo.com/390862604
  ..and later on once the surf got up..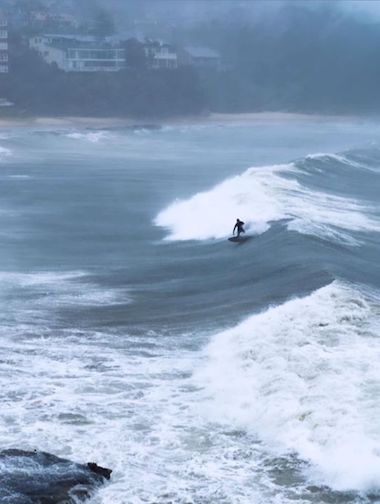 I note this is in the 6s board area.. maybe we could have got them doing this?!
Buena BBQ

Next sausage sizzle provided by our friends at The Buena will be on for the 1st March (the last Nippers session of the season will be 8th March). 
We have one volunteer, we need another five. The Buena chefs will be handling the food and cooking, we only need people who can help us serve. 
Please reply to this mail if you can assist.
Champs
The swim event didn't take place, which we understand isn't ideal for those who are awesome at swimming. So we're going to put our heads together and come up with something that evens it out (ie. a short swim at the start, perhaps).
Board paddle is the activity this week.
Setup and Pack away
Next week its the turn of the 8s, please be there at 8am. Thank you
See you on the beach!
Ben
______________________